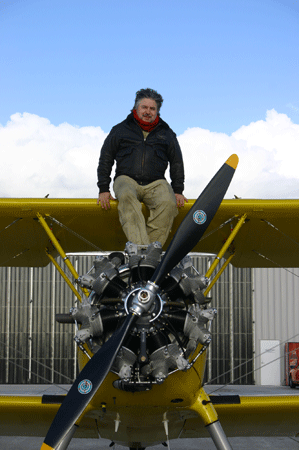 Boeing Stearman 75 Kaydet
First flown in 1934, this attractive bi-plane went into production in 1936 as the PT-13. It became the standard primary trainer for both the US Army and Navy, as well as being built in Canada, where it was given the name 'Kaydet'. In all of North America the Kaydet is fondly remembered and many of the 10,000 aircraft built remain in operation today in such roles as crop-spraying, with many pristine examples in the hands of collectors. The Stearman is one of the greatest aircraft of the bi-plane era.


Specification: Two seater Primary Trainer.

Power plant: One 220hp Continental R-670-14 radial piston engine.

Performance:

Maximum speed: 124 mph

Cruising speed: 106 mph

Service Ceiling: 11,200 ft

Maximum range: 505 miles

Dimensions:

Length: 25 ft

Height: 9ft 2 inches

Wing area: 297 sqft

Wing span: 32ft 2 inches

Weight:

Empty: 1936 lbs

Max takeoff: 2717 lbs.

Total production: More than 10,000 of all variants were built until production ceased in early 1945

Model 75: A number of variants were built during the production run, the main features being engine changes and instrument modifications. The PT-13 having a Lycoming radial, PT-17 a Continental 220hp R-670-14 engine, and the PT-18 having a Jacobs engine

History of Stearman N54173
Model Number: B75N1

Serial Number: 756574


Navy Model: N2S-3

Navy Class: VN

Navy Serial: 05400


Original Delivery Date: 09/08/42

Initial test Flight: 09/13/42

Ferry from Wichita to New Orleans: from 9/16/42 to 9/18/42

Ferry from New Orleans to Dallas, TX: 08/22/45

Final Navy Flight: 09/12/47

Restoration: 1996 by Lee Searles in Seattle, WA

Bought by current owner: July 2003

Home base: Hollister (KCVH)
Owner/Pilot: Stearman-Aero,LLC/Andreas Hotea

The Navy designators were: S=Scout, F=Fighter, N=Trainer

The last letter is the manufacturer's code.

A N2S-3 was therefore a trainer, the second design by the Stearman Airplane Company, 3rd model. The 3rd model was powered by a 7 Cylinder Continental Motor producing 220 hp.

History of Lloyd Carlton Stearman (designer of this aircraft)
(From "Wings of Stearman" by Peter M. Bowers)
Important Milestones

10/26/1898 - Born in Harper, Kansas

1920 - Mechanic at the Laird Airplane Company

1923 - Chief Engineer for Swallow Aircraft Company

1924 - Partner in Travel Air Company with Walter Beech and Clyde Cessna

1926 - Moved to Venice, CA and formed Stearman Aircraft Incorporated

1927 - Moved to Wichita with his company

1929 - Stearman Aircraft became part of United Aircraft and Transport Corporation

1930 - Lloyd Stearman resigned as president

1938 - Creation of Stearman Aircraft Division of the Boeing Aircraft Company

1970 - Stearman plant closed

1975 - Lloyd Stearman dies